Survive - Wilderness survival
Survival Game – Can You Survive the Wilderness?
Imagine yourself being stranded in the middle of nowhere. Will you be able to survive? Would you be able to find a way to stay alive until help arrives? If you want to find out then this survival game is the best way to do it. Survive – Wilderness Survival is a fascinating game in which you have to survive with limited resources under difficult circumstances and find your way to safety. Your goal is to survive for as long as possible by living off the land and keeping yourself safe from hunger, dehydration and disease. You will be provided some basic resources while the rest you would have to gather on your own. If you are able to remain alive and travel to a safe place, you can call yourself a true survivor.
Survive – Wilderness Survival has user-friendly gameplay which makes it easier to play for just about anyone. All the options are available on the home screen and you just have to pick and choose the ones by clicking their icons. While playing the game is not that difficult, surviving the different scenarios it creates for you is very challenging. You need to make the right decisions if you want to ensure your survival. There are three important aspects that you need to keep in mind when finding yourself alone in a deserted place. These include hydration, body heat and condition. You will find bars representing these three aspects on the bottom-left corner of the screen. All the actions you need to take for surviving the scenario can be found on the screen's right-hand side.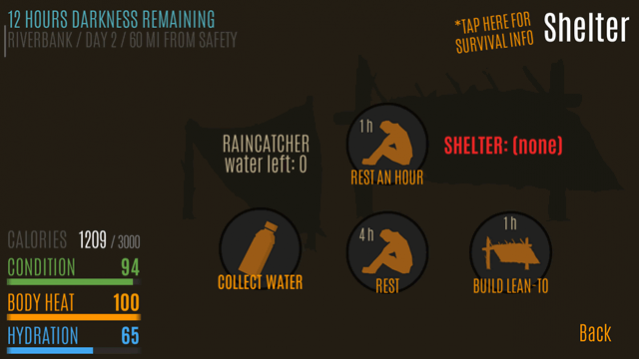 In this survival game, you are offered various challenging scenarios to escape from. For each scenario, there are multiple difficulty modes available. If you are playing for the first time, you need to start with the easiest difficulty mode and later progress to the extreme modes once you have survived it. One of the first things that you will need to do when you find yourself in a compromising situation is to build a shelter. Once you have done that, your next step should be to gather wood and start a fire. This would ensure that your body heat doesn't get too low and you don't get hypothermia. Your next task should be to find water. If there isn't any water source available, you need to catch the water using a rain catcher.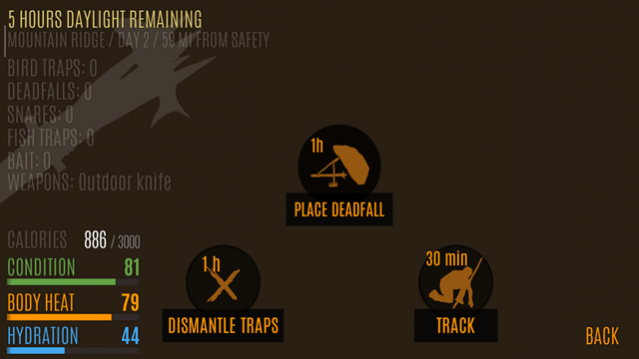 Survive – Wilderness Survival is all about finding a way to safety. So, at some point, you would have to get up and walk in any direction to look for help. Do keep in mind that you can only travel during the daylight. So, make use of the precious daylight time you have for traveling or doing jobs like collecting wood and hunting. The nighttime is best for resting or crafting the items that you need. Make sure that you have a fire going at night as it would be cold during nighttime and your body heat would start to fall. When you are looking to travel, you would have to lose some of your possessions. This would help you in making better ground.
Features:
Lots of tricky scenarios to survive
Multiple difficulty modes to tackle
Make decisions to ensure your survival
Keep track of critical life-saving aspects
Gather wood during daytime
Build fires to keep yourself warm
Hunt for food to retain your energy
Look for clean water to remain hydrated
Explore the area to look for useful resources
Craft useful items to help you survive
Rest at night to preserve your energy
Travel to different locations to look for help
Conclusion:
Survive – Wilderness Survival is a gaming app which will primarily appeal to people who love playing games that involve a lot of logical thinking. It offers them the chance to experience what it is like to be stuck in the wilderness and also to test themselves whether they can survive such a situation or not. It is a nice survival game and you should definitely give it a go.
---
Add a review
Tell us your experience with
Survive - Wilderness survival
RELATED PROGRAMS
Our Recommendations
---
---
---
---